Customer Reviews
I recommend this product
First Box a Great Success
Red: yalumba y series Shiraz - my favourite of the three, would like to try something similar again - fruity with a bit more body to it. Rosé Monrouby Grenache rosé - really lovely and was surprised how much I liked it as I don't usually go for a rosé. Lovely light and crisp, and very easy to drink ☺️ White: Ataland torrontes - this was nice but not one I would try again, felt a bit too heavy. If I was drinking white I'd usually go for a New Zealand Sauvignon blanc or a Pinot Grigio, so something along those lines for the next box would be great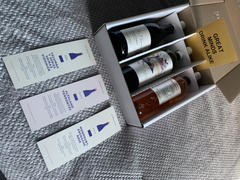 I recommend this product
Sauvignon Blanc Convert
So far I have just tried the white that was sent in this months selection, I normally do not order/buy sauvignon blanc as I find it can be too acidic and strong in passionfruit notes for me, but you have converted me, really enjoyed the one you sent, thank you. Looking forward to trying one of the reds this weekend.
I recommend this product
October wines
Delibori Pinot Grigio - I really enjoyed this wine, and so did the other people I shared the bottle with. All agreed that it was a really nice flavour profile and easy to drink. Would definitely try again - 4/5* Cento Cavalli Nero D-Avola - This was a nice wine, but not a favourite. I'd probably give it a 3.5/5* Chateau Haut Maginet - Enjoyed this wine. Nice overall taste. 4/5*
I recommend this product
Wineolicious
Such an amazing service! Order hand delivered, with the personal friendly touch. The wines themselves are excellent. Just gorgeous and with no awful headaches the next day!!!!
I recommend this product
Review
Amazing idea and even better service. Great selection of wine delivered to your door contact free! Can't wait for our next box.